UPSTYLES AND SPECIAL OCCASSIONS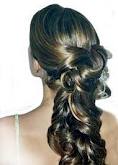 Every girl dreams about her big day. When YOU are the occasion, your "up-do" hairstyle should be as epic as the event. It is all about you and thats okay.
Whether its your wedding day, senior prom, or that special night out on the town, let us help you find that stunning up-do that will turn their heads!
Whether its a classic up-do, a unique style, or the hottest new look, well help find the perfect up-do for you!
Lets keep everything in perspective here. This is supposed to be fun! Dont stress, relax and let your instincts guide you as we help you achieve that perfect star quality look.